Roofing Contractor in Barrie, ON​
Peaks & Valleys Construction is a premier roofing company in Barrie, ON serving all of Simcoe County in central Ontario! We are providing roofing services since 1993. Call us now to get free consultation from the best Barrie roofers!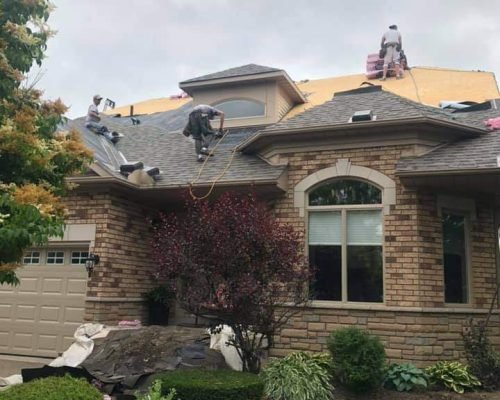 Peaks & Valley Construction
Best Roofing Contractor in Barrie, ON with 5 Star Reviews
Our 4.9 stars review on our Google Business Profile is a proof of our excellent service to Barrie.
Our Quality Roofing Services in Barrie, ON
Six Reasons For People Choosing Us
Peaks & Valleys Construction went above and beyond to make sure I was satisfied with the new roof installation work. Thank you!
Very pleased with the work Peaks And Valleys did - they were prompt, courteous and did an outstanding job in repairing my roof. I can vouch for them if you are looking for a roofing contractor in Barrie.
Charles Roberson
2022-12-03
This roofing company is top notch - they provided excellent customer service, communicated well throughout the process, and did a great job on my roof. Full roof replacement within 48 hours!!!
The crew of Peaks & Valleys Construction who arrived at my home for a roofing project were courteous, punctual and did an excellent job of getting the job done quickly and efficiently. The end result was satisfying and I got educated on the warranties. I would highly recommend this roofing company to anyone looking for quality roofing services in Barrie, ON.
I recently had new siding Installation and eavestrough done on my home in Barrie by Peaks & Valleys Construction that I found online. From the initial consultation to the final completion of the job, I was extremely pleased with their professionalism, knowledge and workmanship. They explained everything clearly and answered all my questions about the process.
If you're looking for a good roof repair service in Barrie, ON - I highly recommend Peaks & Valleys Construction. They did a great job repairing my roof, and their prices were very reasonable. I would definitely use them again if I ever need roof repairs. Thanks again!
Caroline Philips
2022-10-29
Got my roof installed 3 months back, I can totally recommend them for any roofing work in Barrie.
If you need any roof replacement work in Barrie, Peaks & Valleys Construction is recommended. I clicked on their ads and Scott made sure all was well. Totally recommend them!
Got emergency roof repair work done by them. Price quoted was reasonable too! Recommended!
My experience with Peaks & Valleys Construction was amazing! Starting off with a free quote, I decided to go forward with it and had an inspection by Scott who went above and beyond, and walked us through everything in detail and answered all our questions. Can't be more happy with the new roof.
Don't Know What To Start With?
Get A Solutions For All Roofing Services
33 Highcroft Rd, Barrie, ON L4N 2X6, Canada
Email: info@peaksandvalleysinc.ca